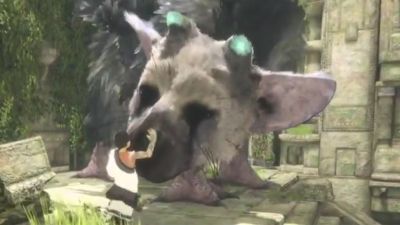 The Last Guardian sometimes feels surprisingly straightforward for a game in development for so long – it is essentially the maneuvering around a large creature from Shadow of the Colossus combined with the puzzle-solving area traversal and escort mechanics of Ico. Aesthetically it is very close to both of them. Now, obviously there are major technical difficulties in creating a digital creature that is not only believable, but also plays nice with all of the game's other mechanics – and there's no mean feat that team Ico did it as well as they did.
Much like their other two games, the Last Guardian is unapologetic about hitting the emotional target before anything else – considering that the emotional target in this case is cooperating with a creature that doesn't quite understand you and doesn't always like you this will occasionally make for some interesting gameplay. Trico will rarely do exactly what you want him to do in a given situation, and it is never quite clear why he is able to squeeze into some spaces, reach to certain platforms or jump over certain chasms but not others. Even though the game is very linear and fairly simple it often becomes problematic to figure out where to go next, and the solution is frequently leading Trico around the room until he reacts to something.
Now, the interesting part is that it feels believable – Tricos animation and behavior never fails to sell his personality. Even when he started to backtrack or repeat himself he always did so in a plausible manner. If his artificial intelligence fails, it just looks like he got distracted by something offscreen. If you're having trouble figuring out where to go next, the alien wonder of the world you're in helps sell the feeling that the main character doesn't know what's going on either.
It's still frustrating, but it's difficult to chalk it up to the game not being intuitive enough. And I'll take a game that dares to try something difficult and fails any day.