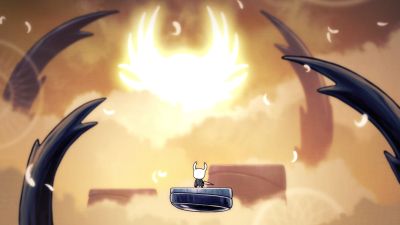 As Metroidvania games go, Hollow Knight is among the best I've played and certainly the best one from the last few years – and I say that as someone who plays a lot of them. It is certainly not the best for everyone – the high difficulty level of the combat and the punishing nature of failure can be a turnoff if you like breezing through games, and the very open approach to progression and lack of direction can be frustrating if you're more comfortable with linear games. Hollow Knight is a game that rewards mastery and thorough exploration, a game that throws difficult challenges of different types at you and gives you the option to find others that are more suitable for your playstyle so you can better prepare for the ones that are not.
Strictly speaking, you'd be hard-pressed to find anything that's particularly unique about Hollow Knight – it brings a lot of Dark Souls elements to a Symphony of the Night- style game, but none of the abilities or other mechanics feel particularly game-changing by themselves. The art and story are essentially insect spins on the old "exploring a ruined underground society" trope that is over-represented in the genre. Thinking about it, I'm not sure this is a meaningful complaint though – some Metroidvania games add gimmicks or throw in other genres, but very few introduce changes that truly change the form of the game. And Hollow Knight does everything so, so well – the art, story and characters make every area genuinely inviting to explore, the abilities and vast amounts of different enemies make the combat a pleasure to master and the variety of the areas make exploring optional content a pure joy.
It is unusual for Kickstarter games to be larger than you expected, but Hollow Knight is a massive experience and not one bit of it feels out-of-place. 2017 has opened up to a very strong start for games and it's not looking like it's about to let up.