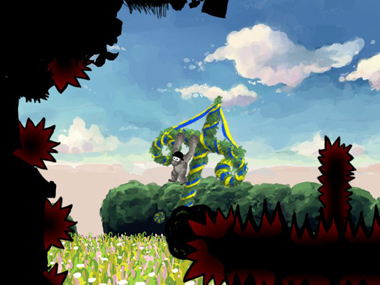 I spent the weekend in Malmö for No More Sweden, essentially hanging out with indie developers and making a game in 40 hours. In my opinion, one of the most interesting things about the Indie scene is how different each developer takes to the craft – judging what is important, what is less important and when it is time to scrap an idea – something that shines through some of the games that were made. Hopefully, all of them will be available in the next few days – my own game, Alain, can be downloaded now.
The game is essentially a platform game that has you maneuvering an ape in order to get a maypole through a level. As with most games written in a compo under a short time limit, it has certain flaws that are there due to a lack of time – lack of time to polish, and a fear of killing my darlings seeing as there wasn't enough time to replace thrown-out features. For example, I would like to have spent more time on the firing and climbing mechanics, seeing as it can be somewhat uninituitive and difficult to control now, and I also would have reconsidered the graphical style and gone for something that would give a clearer image of what platforms you could actually stand on.
Doing it again, I would spend less time on creating assets (although I lucked out as a friend offered to create background graphics) and more time tweaking the level design to weed out the brute-force-solutions and making the proper ones easier to perform. There's also a bunch of features I would like to have added as they would have given me opportunity to create a lot of new and interesting puzzles, and I regret not observing people as they played the game as much as I could, as this had surely given me a lot of more things to add to this list.
Feel free to try the game and add your own comments!