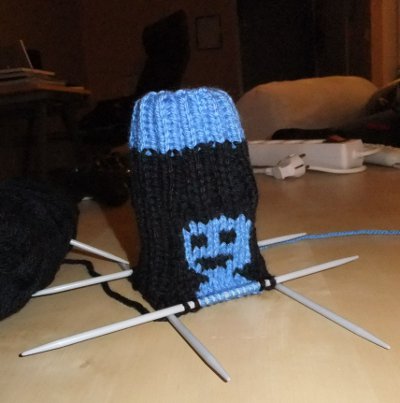 Those who have known me for a long while know I like handicrafts and used to do it quite a lot when I was younger… Like any pretentious developer I like to be creative, and I like to keep my hands busy. It is not that I prefer knitting to other crafts, but it can be done without paying too much attention to it which is great when enjoying non-interactive entertainment such as watching movies – hence I occasionally knit stuff. Long story short, I decided to get rid of it a few months ago and started selling for the Child's Play Charity in the beginning of November through this page.
All in all, the auctions gathered somewhere around $600, thanks in no small part to Terry Cavanagh who helped out by offering a bonus to those interested in the VVVVVV socks… I am not sure what to do next, but for those interested there is this thread on TIGSource.
… That is all. This was an extremely egocentric post, but it was fun to something out of the ordinary for Child's Play instead of just buying something from amazon.