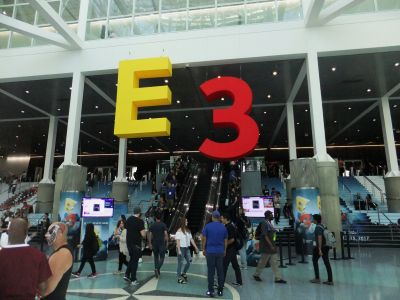 Kind of late to the party, admittedly, as E3 was more than a week ago now. I'm not really interested in publicly musing about the announcements themselves – all of them are online for anyone to see and make up their own mind about.
The show itself has always been a weird thing – a joint press event for the gaming media from before when the individual publishers had enough pull to get any attention, it fell off the map when the publishers did get big enough to put on their own shows. It then came back, and it's never been entirely clear why – it seems some big actors agreed with this and simply neglected to have any E3 presence whatsoever. Last year had EA drop out and hold their own event open to their fans, this left the show floors fairly empty and in 2017 E3 was opened to the public. To be fair, it was kind of always open to the public if you had a thousand dollars and could be bothered to set up a blog, but this year the pretense was dropped and the price was dropped to something more akin to what you'd pay to attend a convention.
That said, I like E3. For all of its superficial glamour and questionable marketing practices, it was always a good time to walk around and get some hands-on time with the upcoming selection of games. It was something of a limited preview and I never understood why I got invited in the first place – to some extent neither did others, and a lot of E3 remains hidden behind closed doors, available only to the media. It used to be that even if the bigger games had long lines if you wanted to try, there were always free stations for some of the less highly publicized stuff you could try at any time. Not so this year, as the amount of people guaranteed that no game could be played if you weren't prepared to wait for an hour.
So I kind of miss what E3 was, but I know full well it made no sense for it to remain exclusive.