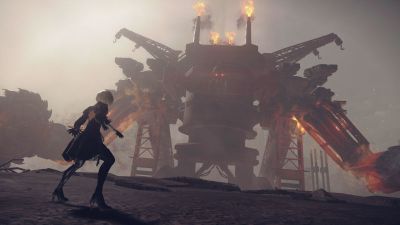 Deliberately breaking the fourth wall and integrating the tropes and support mechanics of games is becoming so common these days that there's plenty of material to compare just that element to. OneShot was built around the concept and executed it remarkably well. Undertale used it for narrative purposes but left the game mechanics of its JRPG – bullet hell – hybrid more or less intact. To be fair, NieR Automata seems to mostly use the same system as the original NieR which came out before those games, but it still feels like it detracts more than it adds. To its credit, NieR's handling of the fourth-wall-breaking moment doesn't detract from its story (like I would argue is the case with Metal Gear Solid), but it also doesn't add so much that it excuses the inconvenience added. In short, NieR does not autosave but includes a Dark Souls-like system where death simply means you need to retreive your body – they then remove this system as a plot device and suddenly you're punished for not saving manually.
That's not all there is to NieR, though, and the game it is based on is a very enjoyable action romp that switches between 3D movement, top-down arena shooting and sidescrolling action – it is mostly seamless, but ultimately does not add a lot. The action is solid and the dodge and combo mechanics together with the wide variety of customization options keep every fight interesting. You can cheese a lot of encounters by keeping a safe distance and shooting, but mixing different approaches is a much faster approach and the game includes enough challenges where speed is of the essence to keep it varied. In terms of the larger scope of the game, it contains your garden variety sandbox quests and is slightly too much on the filler side of content, but at least the game doesn't really prod you to complete things and the exposition you get from doing it is usually interesting.
On the topic of narrative, NieR Automata has plenty of twists and it walks a fine line between not being too obvious about them (at least not all of them) but still have them make sense – this is extra impressive considering it ties into the established lore of the previous games and I managed to pick up on that without playing them. It also has overly earnest anime characters that fall apart in theatrical ways, tolerance of that seems to be highly personal but it ruined a lot of it for me. Overall, the thing the game most suffers for is being open – there are a lot of invisible walls and really shaky platforming involved – but there is a solid action game there with an interesting story.
Also, Sunset – it was released more than two years ago now, but I am lazy.
I feel like Tale of Tales bit off just a little bit more than they could chew with this game – the concept is neat and the way the communication progresses between the two main characters is unique, but a lot of the story and player agency gets lost due to the restrictive mechanics obfuscating what is actually going on in the world outside and what choices you are actually making. The game barely uses the time limit so I feel like ditching that and adding more explanation to some of the critical steps would be an improvement, but the limited interactions and presentation make it hard to sell the story and some pretty glaring visual and continuity bugs take you out of the experience.
Despite this, Sunset is a pretty neat walking simulator, but it feels like it should have been better.