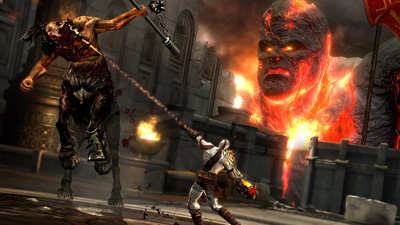 The first God of War was released rather anonymously some five years ago, and quickly grew into a phenomenon. The second and now third iterations have been very careful not too introduce too many elements that might clash with the basics, and God of War III is a very similar game as it's predecessors.
It was said that they wanted to raise the bar again and sure enough it is raised – in terms of visuals and scope of the narrative. Gameplay- wise the weapon and ability system has been changed to become more streamlined and a series of tunnel sequences have been added, but other than that it is just like God of War 2. And sure, I liked the first two God of War games, but it seemed to me that certain things were prime candidates for overhaul. For instance, the constant platforming challenges are a bit too complex for the precision of the engine and instant death when missing a jump felt unfair more than one time – it certainly doesn't help that the game offers to lower the difficulty level when that is not going to help you with anything but the battles. Also, this being the end of a trilogy Kratos has some character development as he nears the end, a noble effort but sadly the result feels rather contrived.
I guess the important part of any God of War game would be the battles, though, and those certainly delivered so complaining about other things is just nitpicking. Different weapons offer very different fighting styles and overall it feels very brutal and violent but with controls that make it precise and elegant. On the other hand, the earlier games had this as well, so the question becomes how much a sequel really needs to add to be validated? Can we accept that even iconic games devolve into vessels for delivering narrative where nothing else really changes? I will have to consider this some more.